The day is drawing near; the day you either hate or love! April 15th, TAX DAY! If you are still in the process of doing your taxes, you are probably fighting off the "tax day blues". Here are 3 strategies to help you make it through, and ease the pain!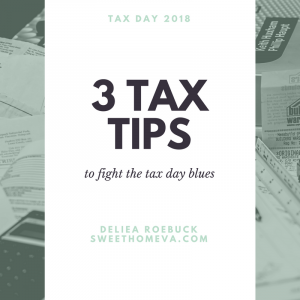 Use a professional or a (free) service!
Did you know you most tax software, depending on the type of taxes you need to file, have a free option? Turbo Tax, Tax Slayer and H&R Block have free options to for simpler tax filings. Not only that, but it makes filing your taxes super easy. Most have prompts the whole way through, and some even have live help to guide you through the process.
Have a more complicated filing? Enlist a pro! Do not let your pride get in the way of making this annual process as easy as possible. There are tons of franchises that provide tax help, as well as local businesses.
Take Advantage of Your Deductions
Sometimes, filing your taxes can be fun. Especially if you know you will get a return. There are tons of deductions you can take advantage of. Have you moved in the past year? Deduct your moving costs. Do you have a child or pay child support? Deduct some of those expenses. Own a home? Deduct the interest on your loan! Donated to charity? Give yourself a pat on the back and save those receipts! This is another way enlisting a pro or using a program can help you. It will guide you through what life changes and certain activities can be used for tax deductions.
Owning Real Estate Makes a Difference
It is no secret that owning real estate comes with certain tax breaks, but do you know just how much? Not only can you use your mortgage loan to deduct interest, you can also deduct a certain amount of property tax!
Selling your home? You can even write off up to a certain amount of your home sale profit!
Have an investment property? There a numerous ways you can use this to your advantage!
For a full article specifically about real estate and taxes, check out this article from Tax Policy!
So, gather up your W-2s, 1099s and K-1s and get going on those pesky taxes and don't let your April 15th bring you down! Follow these 3 simple tips to make the most of your tax day.
*We are not tax professionals and gathered information from multiple tax sources.