We came across an interesting headline today on Inman News post that lead us to wonder if, as the article states, Internet leads really are a waste of time and money for real estate agents. It seems that discussions about building business for real estate agents tends to revolve around having an Internet site with a great give-away or registration form, keeping social media sites updated regularly or the newest tech software/device discovered at an industry conference. Sweethomeva.com does value our online presence and generate online leads through the site, and we do follow up with them, but we still find that the majority of active buyers and closed sales come from referrals.
Where Do Real Estate Clients Come From?
When diving into quantifiable results, internal metrics prove that on a micro level, referrals account for the majority of business for Sweethomeva.com. Can this be true on a macro level? How do agents across the country generate new business? Are agents getting significant new business via their Internet site? According to the National Association of Realtors' 2014 Home Buyer and Seller Generational Trends report, personal referrals – not the Internet – are the most significant resource of business for ALL realtors. A total of 54% of home buyers either sold with an agent that was a referral or from one that they previously used. Another 8 % were referred by other agents or a relocation company. Only 9% of home buyers found their agent via the Internet (Source: NAR 2014 Home Buyer and Seller Generational Trends Report, exhibit 4-6).  Referrals truly are the Cinderella that gets less press trumping it's sexy Internet sister!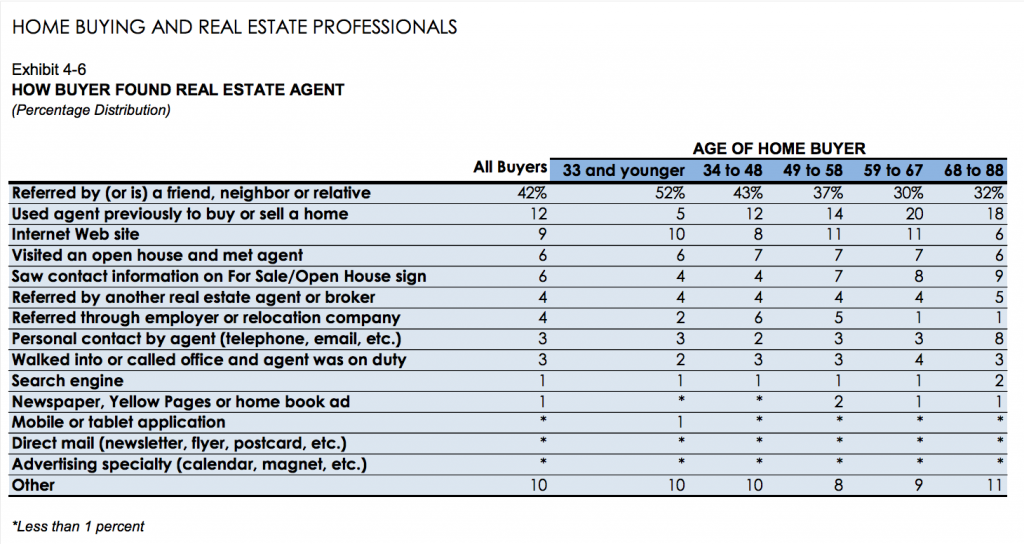 But, wait, everyone keeps saying how important the Internet is for home buyers (who spend on average about 12 weeks in their home search, contacting an agent after two weeks of doing their own research – exhibit 3-3); and Zillow, Trulia, and the like are making a ton of money on the Internet. The big guns do rely heavily on the Internet to market to active home buyers and to sell products and space to real estate agents.
There is no denying that the Internet is important during the home buying process, but as a research tool to view photos of homes and neighborhoods, mortgage info, etc. Many even find the home that they settle on with the Internet (exhibit 3-4). Could it have been with or without the aid of an agent, the report isn't clear on that.  What is clear is that an agent was responsible for finding the home that was purchased a third of the time. This makes getting client referrals even more important! You can't help a client, if you don't have one, right?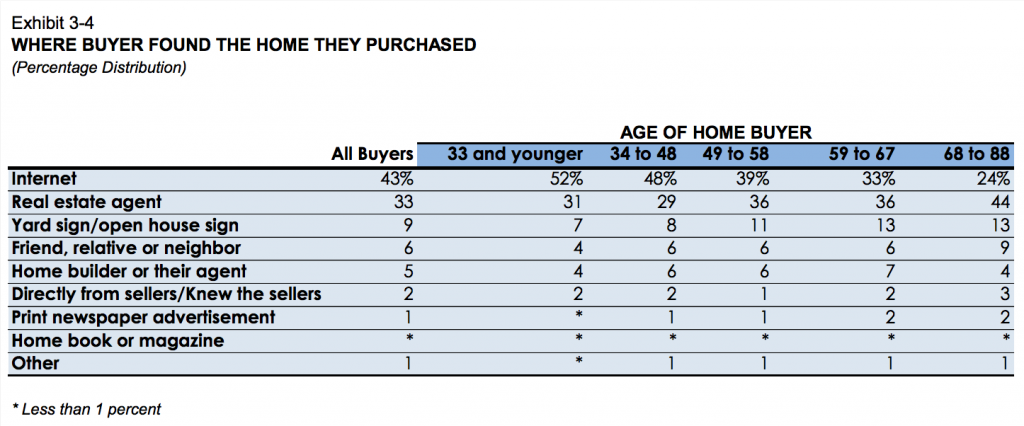 How Should Real Estate Agents Spend Resources To Get New Business?
The take away here is to spend the majority of your time, money and energy on client relationships, not Internet leads. Allocate the majority of your resources into cultivating relationships with clients and pros in your network. They will endorse you on a personal level, which will lead to more clients.
What About The Internet For Drumming Up New Business?
What does this mean for your marketing spend and how you approach the Internet and social media? Well, you definitely want to stay as current as possible and provide the features that Internet searches are looking for. The Internet is vital, but it's not the most important ingredient in real estate sales, which is an extremely personal business. Buyers and sellers are making an emotional decision where the stakes are high for them (and for you, too!) and they want to be sure they are dealing with an agent that can handle the work load, be there for them and do an excellent job. The referral gets you into the front door, let your Internet and social decorate your business "house" so they feel comfortable choosing you.
Don't forget to keep your site up to date with the features searches crave. Personal listings with photo and detailed property information go a long way with buyers and sellers. An active social media presence will help, too. See exhibit 3-10 for direction on what to incorporate into your site. Good luck!