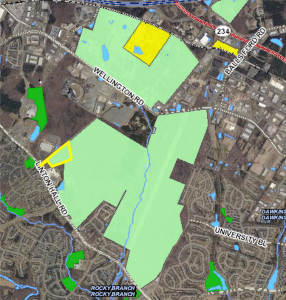 At tonight's Prince William County Board of County Supervisors (BOCS) meeting, the evening's agenda includes a public hearing (7:30pm) before they vote on Comprehensive Plan Amendment #PLN2013-00186, Stone Haven (Res. 12E) & Rezoning #PLN2014-00127, Stone Haven (Ord. 14).
A Bit of Stone Haven Development History
The proposed Stone Haven development sits along Wellington and Balls Ford Roads (south and east of Jiffy Lube Live) and has been under consideration for over two years now. Much has been said in local media, on social media sites and amongst Bristow/Gainesville residents about this proposed development.  Supporters welcome the new community which will bring the 13th high school to the county, open space, ball fields and new retail/work opportunities; and detractors complain that taxes will rise, citizens haven't had enough input, and there is insufficient infrastructure to support such a development.
In March 2012, the developer's original plans were approved by the PWC Planning Commission, but rejected by the BOCS. They asked for changes that would be a better fit for the community. While the developer reached out for community input in the summer of 2012, there is some controversy about who was invited and the style of the meetings (many local neighborhoods were not invited; meetings were not interactive as participants expressed concerns in writing). But as PWC Planning Commission Chairman At-Large Austin Haynes pointed out in a recent Bristowbeat.com article, "There was two years of notification on this project. Yes, there were certain communities not invited. [However they] only had to invite people living 200 feet away…"
In September 2014, Stone Haven's developer brought revised plans to the PWC Planning Commission, who again are recommending that the BOCS support Stone Haven.  As part of its improved proposal, the developer seeks rezoning of the parcel of land to accommodate 1,650 single-family and town homes, a new high school and tree buffers space and open land.
Why Support Stone Haven
Deliea Roebuck supports Stone Haven. Other supporters include the PWC School Board – which unanimously voted to approve the development, and local athletic associations, like the Gainesville Youth Football League. As part of its improved proposal, the developer will divide the parcel of land to accommodate the homes and about a million square feet of commercial, retail and employment space. Realizing the impact the large-scale development will have on the community's resources (schools, roads and other taxable services). The developer has offered proffers in excess of what is required. From Bristowbeat.com:

The applicant, Hunter Trust, agreed to proffer more than $20 million above the new proffer requirements, which have not even taken effect yet. These proffers include several acres on which to build a new sorely needed high school. It would also aid in the completion of key access roads Rollins Ford and University Boulevard. It provides land for ball parks and fields, or possibly the location for a new middle school. Meanwhile, it preserves open space, and extends the network of nature /bike trails that run through Braemar and Victory Lakes.
As a parent with a senior at Patriot High School and a 7th grader at Marstellar Middle School, Deliea is personally aware of the need for more schools on this end of the county. As it is now, the larger Linton Hall community is divided into two high schools, with students along Devlin Road, including Victory Lakes and Sheffield Manor, having Stonewall Jackson High School in Manassas as their base school; and students to the on the southern end and western edge of Linton Hall Road going to Patriot. A new high school in the area would reinforce community ties and reduce bus travel time.
Deliea has been a member of the Devlin Road/Linton Hall community dating back to 1999, first as a homeowner in Sheffield Manor and since 2004, as a homeowner in Victory Lakes. If you were a resident of Western Prince William County in the early 2000s, you may recall that the area suffered from insufficient services and infrastructure. This included extremely limited shopping opportunities (yes, Giant used to be our only grocery store), severely clogged roads (nobody longs for the days before the widening of Linton Hall Road, the extension of Sudley Manor Road to the Parkway and the alignment of Devlin Road with Balls Ford Road!), and not enough schools for the new residents (before Victory Elementary school, some students were shuttled into Manassas to attend Ellis Elementary, while there neighbors were at Cedar Point in Bristow).
While we have come a far way from those days, the reality is that we are still in need of facilities, service and improvements to local infrastructure. And Deliea would rather see more people, and fewer warehouses and light industrial business come to the area.  We have a beautiful community that will benefit from the improvements that are sure to come with the Stone Haven development.
The Stone Haven development proposals
Comprehensive Plan Amendment #PLN2013-00186
To change the Long Range Land Use designation in the Comprehensive Plan of +/- 864 acres from SRL, Suburban Residential Low, FEC, Flexible Use Employment Center, and ER, Environmental Resource to adopt the Stone Haven Study land use map that includes residential, employment, parks and open space, and transitional land use areas. Also, to adopt associated land use plan text to support development consistent with theStone Haven Study. The site is located on the south side of Wellington Rd., west of Devlin Rd., north of Linton Hall Rd. and is identified on County maps as GPINs 7496-17-4609, 7496-37-4872(pt), 7496-35-1841 and 7496-65-4921. Associated with REZ #PLN2014-00127, also advertised herein
Rezoning #PLN2014-00127
Rezoning #PLN2014-00127, Stone Haven – To rezone +/- 864 acres from A-1, Agricultural to PMR, Planned Mixed Residential, and PBD, Planned Business District, to permit development of 1,650 residential units consisting of single family detached and townhouse units, and a maximum of 1,062,735 million square feet of office/employment and commercial/retail development. The site is located on the south side of Wellington Rd., west of Devlin Rd., north of Linton Hall Rd. and is identified on County maps as GPINs 7496-17-4609, 7496-37-4872(pt), 7496-35-1841, 7496-65-4921, 7497-10-2413(pt), 7496-19-4118(pt) and 7496-29-2826(pt). Associated with CPA #PLN2013-00186, also advertised herein – Brentsville Magisterial District – Stephan Donohoe – Planning Office
Make Your Voice Heard
Please let the BOCS and let them know how you feel about Stone Haven, whether or not you agree with Deliea's stance. It's important that citizens voice their positions!
Attend Prince William County BOCS meeting tonight, October 7, 2014 at 7:30 pm to speak on the matter
Can't attend the meeting tonight? Send an email with your opinion to [email protected]. Note: the Brentsville Magisterial District is without a Supervisor on the BOCS until a special election on December 23, 2014

Here are some resources:
The PWC BOCS Agenda (October 7, 2014)