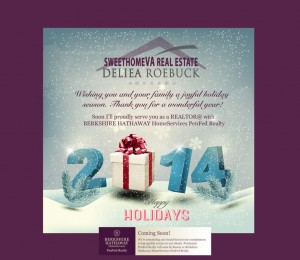 Happy Holidays! I have some great business news to share as we close out 2014.
Today is the last day that my real estate business, SweethomeVA Real Estate, will operate under the umbrella of Prudential PenFed Realty (the Prudential real estate agent network in the mid-Atlanic). It has been a wonderful resource and reliable partner over the years as I served clients and grew my business. Tomorrow, Prudential PenFed Realty will transform into BERKSHIRE HATHAWAY HomeServices (BHHS), and SweethomeVA Real Estate makes Berkshire Hathaway HomeServices it's new home, too.
This transition has been two years in the making. When Warren Buffet acquired Prudential's real estate agent network, Prudential affiliates across the country began the transition, and now it is our turn. BHHS is steadily building it's presence across the country as agents and clients look to one of the most trusted names in business to help with residential home sales. With this new and improved venture, clients and agents are benefitting from the improved brand-recognition, industry-leading marketing assistance and advanced technology tools.
Prudential PenFed is one of the top 10 largest residential brokerages in our area, with sales of $930 million and 390 metro-area agents last year. The new name of the brokerage will be Berkshire Hathaway HomeService PenFed Realty, and it is the exclusive Berkshire Hathaway HomeServices franchise in our region. I look forward to serving past, current and future clients under this new brokerage.