Life in Alexandria, VA – Mount Vernon Community

Life is Good in Alexandria, VA Near Mount Vernon

Life is good in Alexandria, VA near Mount Vernon. Forests, creeks, trails and the famed Potomac River create a scenic backdrop for a life lived in close proximity to jobs, sporting events, museums, shopping, dining, etc. in Washington, DC and Arlington, VA. 
Click to see this amazing Mount Vernon area home for sale at 5502 Teak Ct, Alexandria, VA 22309
History buffs, nature enthusiasts, and water lovers are among the types of folks that relish living near Mount Vernon Estate in Alexandria VA, 22309, the family estate of George and Martha Washington. The historic 500 acre property, which has the distinction of being "the most popular historic estate in America" provides a beautiful backdrop for modern-day homeowners.
Beautiful Green Space, Golf and Parks Living Near Mount Vernon Estate in Alexandria VA
In the shadow of Mount Vernon, homes are sited on mature, wooded lots with broad streets and many back to trees and protected green space. Highly desirable neighbors in this area – that come with fabulous protected green space – include: the golf course and grounds of Mount Vernon Country Club, Grist Mill Park, Huntley Meadows Park, Fort Hunt National Park and Washington Mill Park. A fixture you'll see when living near Mount Vernon Estate in Alexandria VA is the Potomac River.
Enjoying the Potomac River Living Near Mount Vernon Estate in Alexandria VA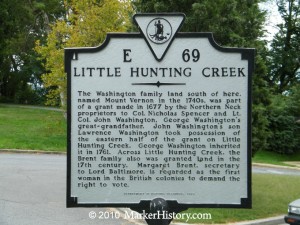 Living Near Mount Vernon Estate in Alexandria VA means you will have close proximity to the Potomac River and its tributaries, Dogue Creek and Little Hunting Creek. Whether your house lays along the banks of the Potomac River, or is just a short walk away, you can take advantage of spying on the geese, bald eagles, and other small creatures, setting a canoe, kayak or small sailboat into to drink or watching the sunset. Stockton Parkway can bring you close to the egrets and ospreys of Little Hunting Creek and Ft. Belvoir Marina offers direct access to the waters of Dogue Creek from Hudson Road.
More Homes For Sale in Alexandria Near Mount Vernon Estate

Living Near Mount Vernon Estates in Alexandria Puts You Close to Everything!
Mount Vernon Country Club         .3 miles
Historic Mount Vernon                    2 miles
Fort Belvoir                                         4 miles
Potomac River                                    4 miles
Springfield Metro Station                 6 miles
Huntington Metro Station                9 miles
King Street Metro Station               10 miles
National Harbor                               10 miles
The White House                             11 miles
Georgetown                                      21 miles
The Mount Vernon Estates neighborhoods are Steeped in History
Historically, in the 17th century, Little Hunting Creek was the stomping grounds of Virginia colonialist John Smith and by the end of the century the land was owned by George Washington's great-grandfather John Washington. In short time, Little Hunting Creek Plantation transformed into George Washington's Mount Vernon Estate.
Contact Deliea Roebuck, REALTOR®, about living in Alexandria