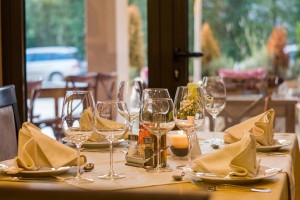 One reason why Northern Virginia is such a great place to live is the wide variety of dining options we have. From casual dining on delicious Persian Food in McLean at Shamshiry to the formal Belgian cuisine with American flare in Alexandria at BRABO by Robert Wiedmaier, we can have it all – without having to go into Washington, DC (The City)! The further away you get from The City (especially the outer suberbs), the less you want to travel there for a nice dinner out during the week. The same can also hold true on the weekend when you don't want to travel 25-30 miles to satisfy your appetite for fine food. Sweethomeva.com would like to introduce you to four Northern Virginia restaurants that are gastronomical gems in Fairfax County's Clifton, VA.
[icegram campaigns="11459″]
Northern Virginia Restaurants – Eating out in Clifton VA
Clifton, in southwest Fairfax County, is a small town of about 200 residents and is sited on land 1/4 of a square mile in size.

Less than 30 miles from Washington, DC and yet protected from the surrounding sprawl, Historic Clifton harkens back to a time when…well, back to a time when people were probably a little more used to expressions like "harkens back."

Read on to find out a bit about these wonderful restaurants in Clifton, VA and opinions from online rating sources: Zagat, Open Table and Yelp.
Zagat rating: The world renown Zagat family business surveys to diners and tabulates the results on a scale that is, excuse the pun, easy for reader's to digest. The results are numeric, with the highest possible rating being a 30 (26-30 = extraordinary to perfection; 21-25 = very good to excellent; 16-20 good to very good; and the ratings go down from there)
Open Table
First up, a restaurant known for its innovative culinary combinations that attracts diners from all over Northern Virginia: Trummer's on Main.
Eating Out in Clifton: Trummer's On Main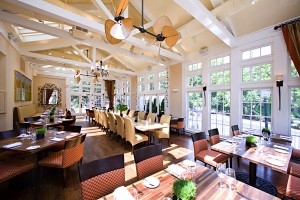 7134 Main St | Map
Clifton, Virginia 20124
703-266-1623
www.trummersonmain.com
Zagat summary:
[infobox type="info" clickable="yes"]There's something "exciting" and "new to try every few weeks" at this "classy" Clifton, VA, New American where even the "elevated" bar menu showcases "unique" cocktails; an "elegant", contemporary setting and "knowledgeable" staffers enhance every occasion from a "quiet, romantic" meal to brunch on the patio, and no matter where you land it's "a bit expensive, but worth it."[/infobox]
Trummer's on Main is where New York City meets Historical Charm. Owners Stefan and Victoria Trummer bring their extensive restaurant experience and passion to small town Clifton to offer a unique dining experience. Our chef, Austin Fausett, helms from The Inn at Little Washington and offers a variety of dining options
Zagat rating:
Food 26 | Decor 26 | Service 24 | Cost $64
Eating Out in Clifton: Clifton Cafe
7144 Main St
Clifton, VA 20124
(703) 830-2424
cliftoncafe.com
On Yelp:
[infobox type="info" clickable="yes"]Wonderful little cafe in the heart of Clifton. The food is fresh and homemade – very good. The outside patio is perfect when it nice outside to people watch and see the trains come through. ~ Yelp review[/infobox]
4 stars
124 reviews
$$
Eating Out in Clifton: Rosemary's Thyme Bistro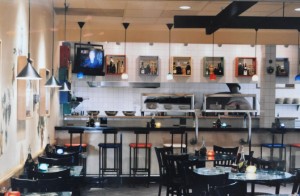 5762 Union Mill Road
Clifton, VA 20124
(703) 502-1084
rosemarysthyme.com
Romantic nights out are great, but sometimes you want to include the kids too. Rosemary's Thyme Bistro's Clifton VA location (there's also one in the District) has been voted a Top 10 best kid-friendly restaurants, Virginia – DC Suburbs by users of Open Table< ./a> They specialize in Mediterranean cuisine with lots of Turkish dishes on the menu.
Eating Out in Clifton: Trattoria Villagio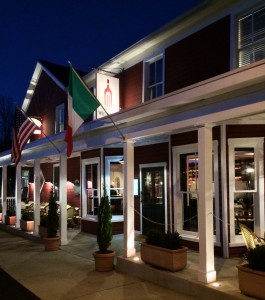 7145 Main St
Clifton, VA 20124
(703) 543-2030
trattoriavillagio.com
Trattoria Villagio is in a charming building steeped in history. It's designed to inspire the look and feel of an Italian train station,and according to their website, it "is located on historic Main Street, in the old Buckley Brothers' store (built circa 1900), just steps away from the active Norfolk-Southern rail line." Expect a wait, especially if you want to sit on their outdoor patio.
[infobox type="info" color="green" clickable="yes"]Best place to go in the Fairfax County area on the weekend. The food is great, especially the unique salads and charcuterie. But the bars…OMG! One inside that's just gorgeous with marble all around, and a smaller one on their patio. Best drinks ever! ~ Yelp review[/infobox]