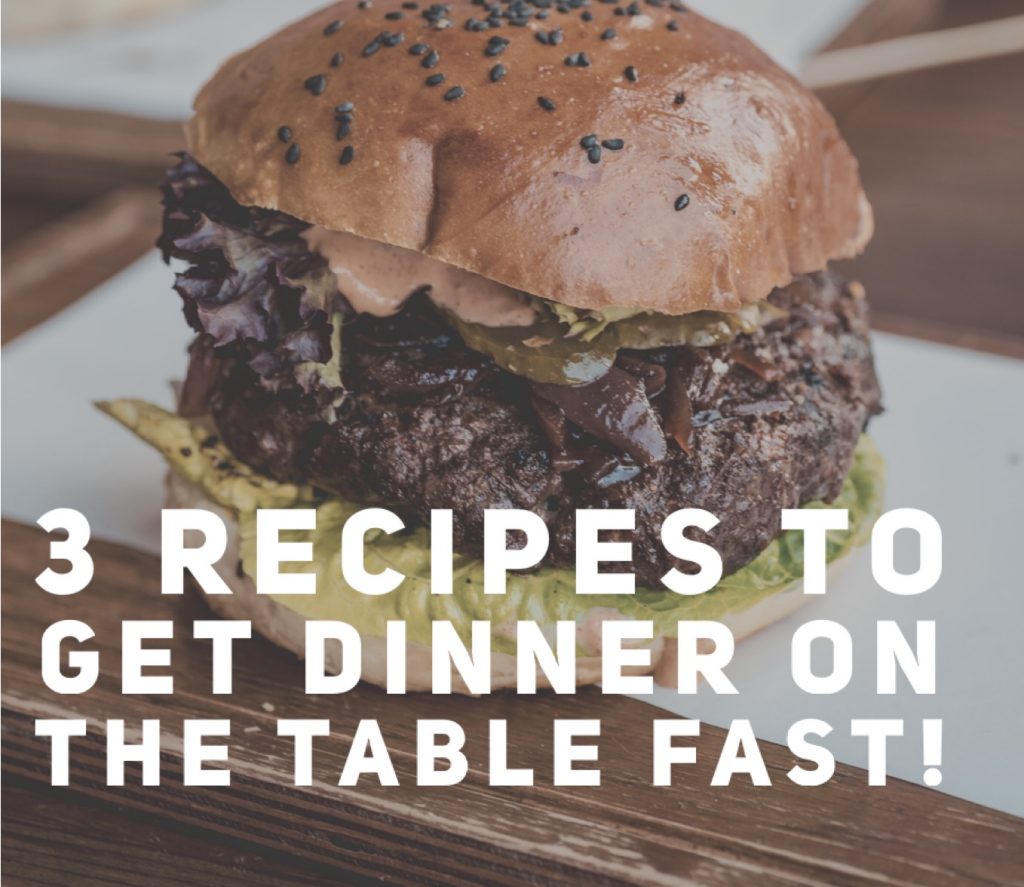 We all have those days when we get home from work late, we're exhausted, and have no clue what to make for dinner. Your stomach is growling, the kids are whining and your husband is hangry. At that moment it seems so much easier to just order a pizza or stop and get some drive through. Today I'm sharing three of my go to recipes that get a healthy kid and hubby approved meal on the table in 30 minutes or less.
I'm a huge proponent of working smarter not harder, so making meals up ahead of time is one way I do this. This allows me to have something in my freezer that I can get on the table fast when these days happen, and they will.
One way I do this is by doubling any freezer friendly recipe I am already making. Freezer cooking is nothing new, but for a working family it can be a lifeline on those crazy evenings.
Recipe #1: Ranch Cheddar Burgers
This is by far my children's favorite recipe, it freezes well so it's a staple in our freezer. I simple double the recipe and but the extras in a freezer zip lock baggie for later. Be sure to layer wax paper or tin foil between the patties to keep them from sticking. These can be grilled, fried, or baked. Serve them up with a salad and a veggie and you have a nice meal. Frozen patties do not need to be thawed prior to cooking if you forget to pull them out in the morning.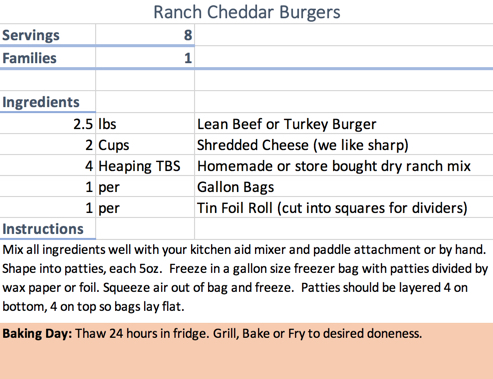 Recipe #2: Italian Chicken
This recipe is great as a stand-alone, on a salad, or placed on some Naan. The leftovers taste even better the next day. This recipe can be made ahead and frozen for a quick easy dinner later on. You can either cook up the chicken or simply freeze it raw in the marinade for up to three months. This is also great on the grill. Thawing the frozen chicken isn't necessary as it can be cooked frozen, just make sure when freezing you lay it flat so the chicken doesn't get stuck together. I like to put it on a cookie sheet in the freezer until it's frozen for some added support.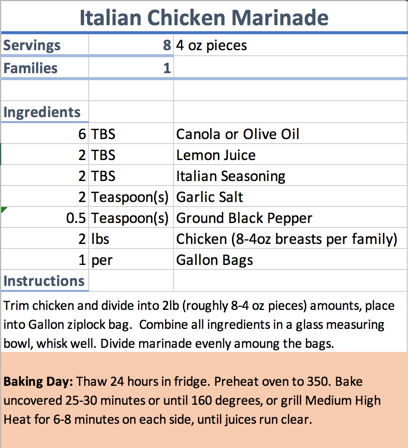 Recipe #3: Frittata
Frittatas are fast, easy, and you can mix in just about anything you have in your refrigerator. Just make sure you pre-cook your mix ins. Any item with excess moisture, like greens, try to squeeze out as much as you can before adding it to the mix. The varieties you can make with this recipe are endless. My families top favorite is ham and broccoli, and asparagus with chicken sausage and tomato.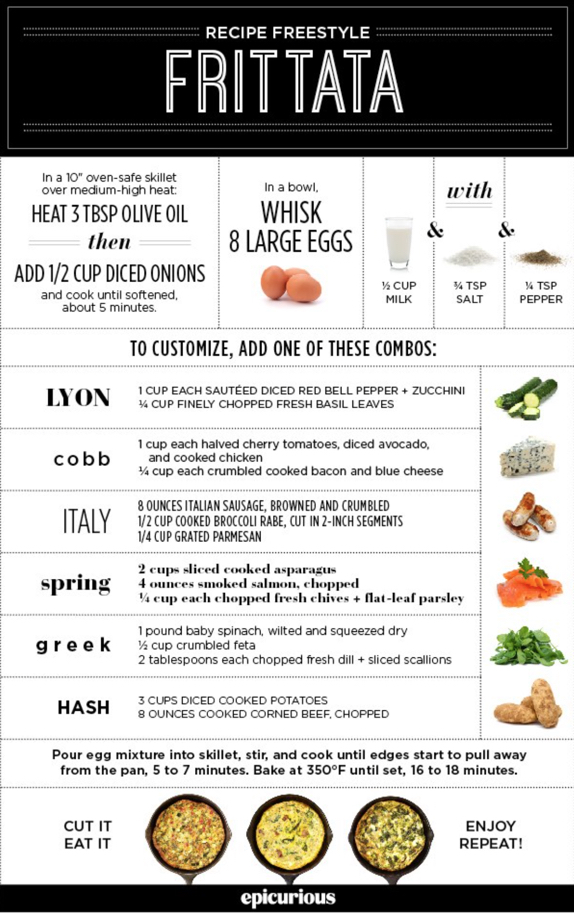 Pro Tip: Easy on the beating
Only beat the eggs enough to blend the whites and yolks, to much muscle causes the frittata to become dense when cooking.
This recipe is great for Mondays and lunch the next day, as the frittata can be refrigerated for up to 24 hours after cooked. To serve, bring to room temperature or reheat. Unfortunately, this doesn't freeze well in my experience, but it's so fast it really doesn't matter.
Dinner doesn't have to be take out, nor does it have to be stressful. If you keep some simple staples on hand, like eggs, chicken, and burger you can get a healthy dinner on the table in under 30 minutes. I'd love to hear if you've tried any of these recipes.