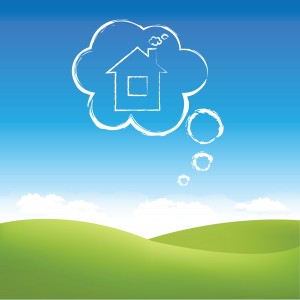 In the first part of a series on first-time homeownership called First Time Home Buyer Basics, Deliea Roebuck and the Sweethome VA Team explore First Time Home Buyer Basics: Buying vs. Renting. Insight for renters considering home ownership for the first time.
One of the most common concerns we hear from first-time homebuyers is apprehension over the financial responsibility that homeowners have – and that renters don't have. As a renter, if there's a squirrel in the attic, a leaking faucet in the powder room or a tear in the siding, you call your landlord and they pay to fix the problem. As a homeowner, you are responsible for the cost of home repairs. This can be a scary thought.
We believe, however, that the longterm financial benefits of home ownership far outweigh the short term repair issues that may pop up – both financially and personally. For one thing, the financial burden of home repairs can be kept down with regular maintenance, home owner's insurance and a home warranty. And there is of course, the sense of pride you will feel when you are the "master of your domain." Read on to see other significant ways owning your own home may bring more financial benefits than renting.
[note color="#ffcc00″]Fill out the first time home buyer's survey below to get started on your journey to homeownership.[/note]
Homeownership in America has historically led individuals along a path of economic freedom. Home owners benefit from multiple tax deductions, insurance benefits, and most often rising equity which plays a role in the journey to economic stability and wealth. Take a look at the table below for a snapshot of financial benefits of homeownership.
| | Homeowners | Renters |
| --- | --- | --- |
| Mortgage Interest Tax Deduction (fed. & state) | Since interest makes up most of the monthly payment for the early years of your mortgage you will have a healthy deduction in the early years | No deductions for renters. In fact, you are likely paying the homeowner's interest with your rental payment, while they benefit from the tax deduction |
| Property Tax Deduction | A significant benefit | Again, no benefit |
| Equity | Over the course of homeownership, a home's value may increase. You have the ability to tap into your equity to finance home improvements, trips, college educations, etc | There is no gain in being a renter. Your monthly payment helps keep your landlord's mortgage costs low, while they get the benefit of any gain in equity |
When you are ready to make the switch from renting to homeownership, please be sure to consult me, Deliea Roebuck, REALTOR®. The language, rules and regulations of real estate sales are complex and I would love to use my experience to help you find the best home possible for your situation. I can help you determine:
     How much home you can really afford
     The type of loan and insurance that is right for you
     The neighborhood that best suits your needs (commuting, schools, safety, etc.)
     The offer to make on a house

From finding your new home to taking you all the way through closing, when you meet with the seller to buy your home, I will help with finding the right neighborhood, titling, insurance, paperwork and any other situations that arise. I will be your partner, from beginning to end.

Fill out the first time homebuyer's survey below. Whenever you are ready to take on the exciting next step to home ownership – I will be there to help you. I can't wait to help you achieve your piece of the American Dream!

[gravityform id="1″ name="First Time Home Buyer Survey"]