Sweethomeva.com is pleased to bring you Northern Virginia Fun Things To Do This Weekend, July 18-July 20. Some of the events have a link to reduced ticket prices! Check back as new activities are added as we find out about them.
Sports

Potomac Nationals take on the Wilmington Blue Rocks tonight, Friday June 18. Game time is 7:05pm and there are plenty of great, budget-friendly seats available.
Tonight's fan promotional items are:
Bryce Harper Poster Giveaway presented by Burke & Herbert
Kids Run the Bases presented By Glory Days Grill
Concerts
There's a diversity of musical styles on display this weekend.  Latin Music, cafe rock with television stars, classic rock by two venerable American bands and the US Navy's Country band – it's all here in Northern VA!
Mega KestaFest 2014
George Mason University's Patriot Center is featuring multiple musical performers in a celebration of latin music. Featured performers include: Jorge Celedon, Grupo Niche, Grupo Gale and Orquesta Guayacan.
Patriot Center
4400 University Dr, Fairfax, VA 22030
July 18th at 7:00pm
Get tickets here
NBC The Voice's Tony Lucca, Tyler Hilton & Anna Rose
Tony Lucca (from the Mickey Mouse Club and NBC hit show "The Voice"), Tyler Hilton (from the CW's "One Tree Hill" and the acclaimed Johnny Cash biopic, "Walk The Line", will be at Jammin Java Music Club & Cafe in Vienna.
Jammin Java
227 Maple Ave E Vienna, VA 22180
July 19th at 6:30pm (doors open for lobby bar at 4:30pm, doors open at )
Get tickets here
Jiffy Lube Live: Lynyrd Skyrnyd & Bad Company
Two of the most recognized rock legends around Lynyrd Skynyrd & Bad Company are teaming up for an ultimate classic rock tour. Last years tour saw unprecedented popularity and now they are back t emulate last years success! ~ Jiffy Lube Live
Jiffy Lube Live
7800 Cellar Door Drive, Bristow, VA 20136
July 19th at 7:00pm
Get Tickets Here
Navy Band Country Current Performs at Promenade at Virginia Gateway
The band is nationally renowned for its versatility and "eye-popping" musicianship, performing a blend of modern country music and cutting-edge bluegrass. This seven member ensemble employs musicians from diverse backgrounds with extensive high-profile recording and touring experience in the music scenes of Nashville, Tenn., New York, New Orleans and more. ~ Promenade at VA Gateway
Plaza at The Promenade at Virginia Gateway (near Pinkberry)
Linton Hall Road, Gainesville, VA 20155
July 19th at 4:00pm
Performing Arts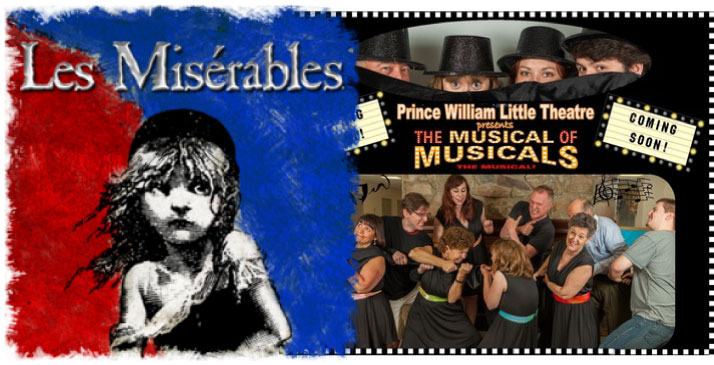 The performing arts are alive in Prince William County performing arts centers as two local musical productions are set to wow audiences. Prince William Little Theatre presents The Musical of Musicals (The Musical!) at the Hylton Performing Arts Center and Upper Room Theater
The Musical of Musicals (The Musical!) Presented by Prince William Little Theater
[highlighter color="light-green"]Reduced Priced Tickets Available[/highlighter](Limited Amount Available)
In this hilarious satire on musical theater, one story becomes five delightful musicals each written in the style of distinctive composers and lyricists such as Stephen Sondheim, Rodgers and Hammerstein, Andrew Lloyd Webber and other favorites. ~ Hylton Performing Arts Center
Hylton Performing Arts Center's Gregory Family Theater
10960 George Mason Circle, Manassas, VA 20110
July 18th – 19th at 8:00pm
July 20th at 2:00pm
Click here to see the half priced tickets ($12.50) via Goldstar
Click here to buy regularly priced tickets and get more info
Les Misérables Presented by Upper Room Theatre Ministries
The Upper Room Theatre Ministry is only the second community theater in Virginia to produce the full Broadway version of this epic musical. This production will feature all the bells and whistles with over $20,000 in production value, showcasing professional lighting, sound and set design. ~ Upper Room Theatre
All Saints Catholic Church
Performing Arts Center
9310 Stonewall Road
Manassas, VA 20110
July 18th at 7:30pm
July 19th at 1:30pm & 7:30pm
July 20th at 1:30pm
Once Upon a Mattress: A Youth Retelling of "The Princess and the Pea"
[highlighter color="light-green"]Reduced Priced Tickets Available[/highlighter]
Hans Christian Andersen's fairy tale "The Princess and the Pea" comes to vivid life via the delightful musical Once Upon a Mattress…This riotous romp is performed by a cast of rising stars, from 10th graders to college students and adults. ~ Goldstar
Thomas Jefferson Middle School
125 South Old Glebe Road
Arlington, VA 22204
July 19th at 2:00pm
July 19th at 8:00pm
July 20th at 2:00pm
All tickets $7.50 through this link